Size Chart for Crochet Hooks Used to Make Crochet Dolls
Size Chart for Crochet Hooks Used to Make Crochet Dolls
Crochet can be a fun hobby for crafters of all ages, and it's easy to see why it's so popular. Crochet is easy to learn and the supplies are inexpensive. You can pack enough materials for a whole project in a small bag and take it nearly anywhere. However, when first getting started, reading patterns and deciphering the language of crochet can be a challenge. What follows is a short description of some of the terms and tools that you will see as you begin your crochet journey. You will learn what a gauge and size chart for crochet hooks are. You will learn how to use both in order to produce results that are consistent with the pattern.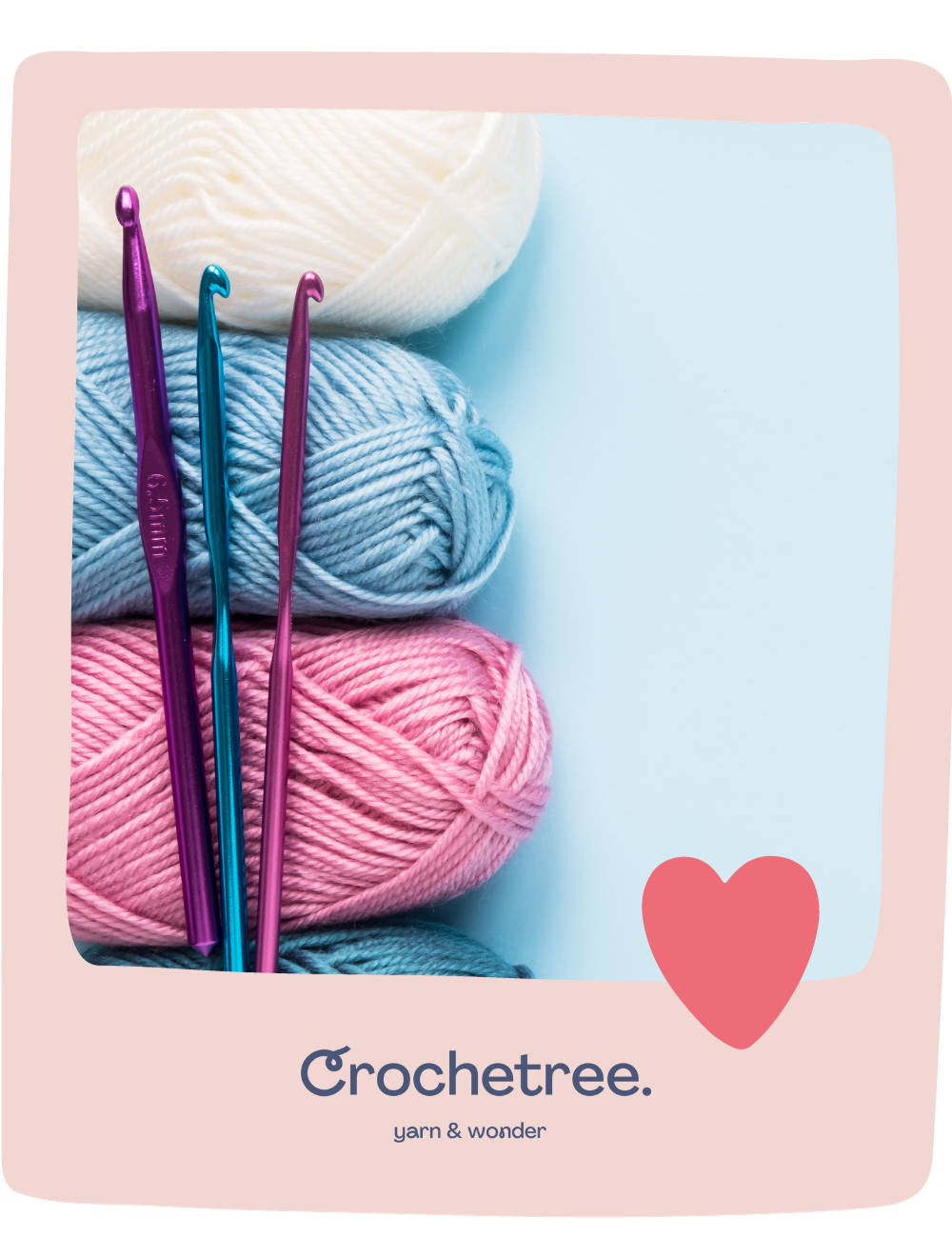 What Does "Gauge" Mean?
The word gauge refers to the number of stitches and rows per inch that happen when using a specific type of yarn with a specific size hook. Every crafter handles the materials a little differently, so the measurements might turn out differently even when using the same size hook and yarn. The result is that projects may turn out larger or smaller than the pattern designer intended. When this happens, it is helpful to know which hook size to use instead. Size chart for crochet hooks will help make this decision.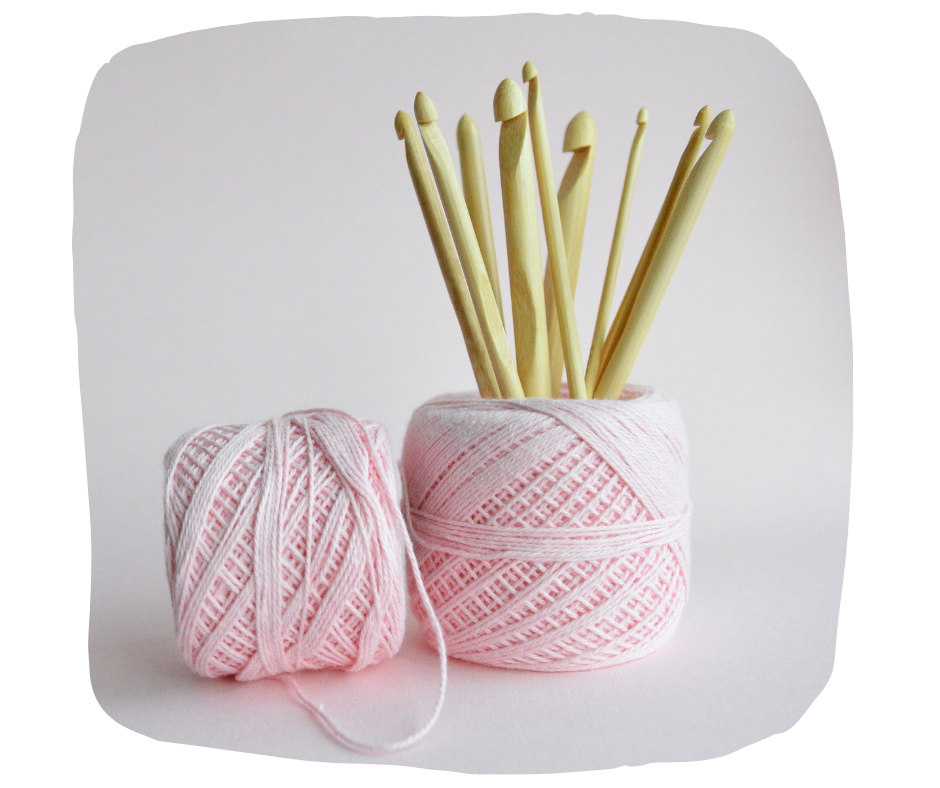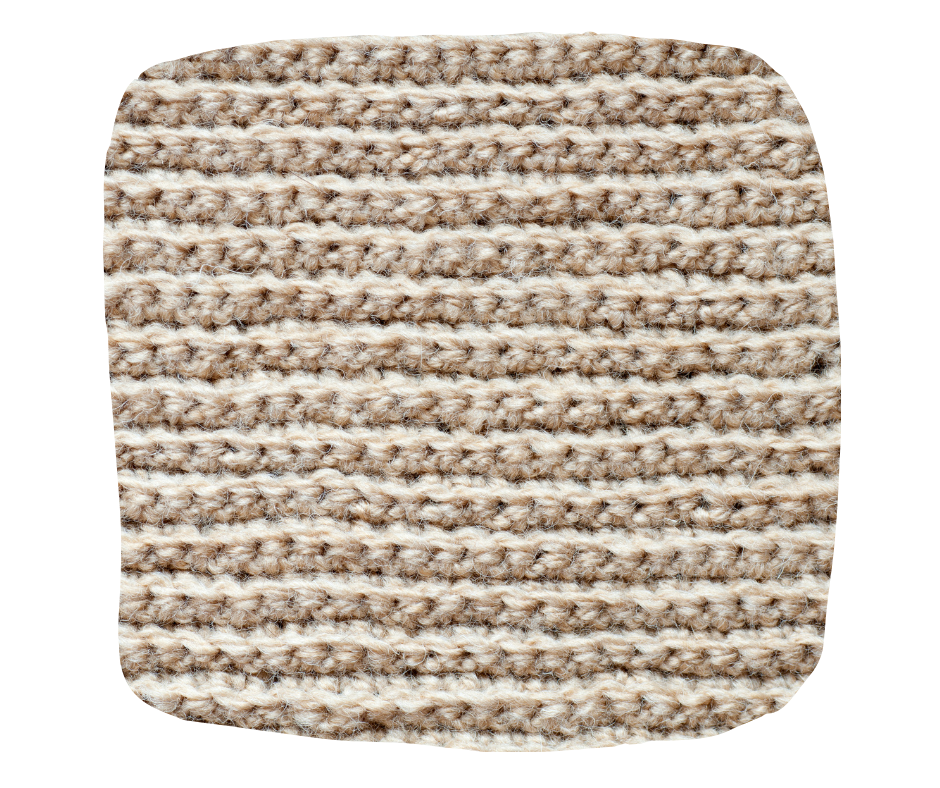 What are Size Chart for Crochet Hooks?
In short, size chart for crochet hooks is a guide that tells you which hooks are bigger or smaller for the set you are using. It should also give you exact measurements (in millimeters) for your crochet hooks as well as help you convert from US hooks to UK or vice versa. Some brands of Crochet hook don't use letter or number names at all, but instead just label the hooks with their metric measurement.
The metric measurement is not actually taken at the hook, but rather just below it at the part that is perfectly cylindrical. The measurement should be given in millimeters and represent the diameter of the cylinder.
Which Crochet Hook Should You Use?
In the US, you may see two types of size chart for crochet hooks. One of these is for crocheting with yarn. The other is for crocheting with thread. In general, the larger the metric measurement, the larger the crochet hook will be and the larger the stitches will be. The US size conversions follow this convention for using yarn. So, if you're making a project like this adorable Crochet Doll from Crochetree, you should do a gauge test before you get started. If your gauge swatch produces fewer stitches than the pattern says, then your stitches are too big and you should select a smaller hook. If your gauge swatch produces more stitches than the pattern says, then they are too small and you should select a larger hook.
For crafters in the UK and the thread sizes in the US, the convention is reversed. The larger the number, the smaller diameter your crochet hook will be. There is some overlap in the size charts. There is some overlap in the size charts for crochet hooks. The Chart for yarn hooks starts at 2.25mm and goes up through 16mm. The chart for thread crochet starts at 3.5mm and goes down to 0.75mm.
Crochet tools, supplies and patterns can now come from all over the world. In addition to these tools being a little different, so too is each individual crafter. Knowing how to measure crochet gauge and using size chart for crochet hooks will help you decide which hook to use as you create each pattern.
Source: Wikipedia.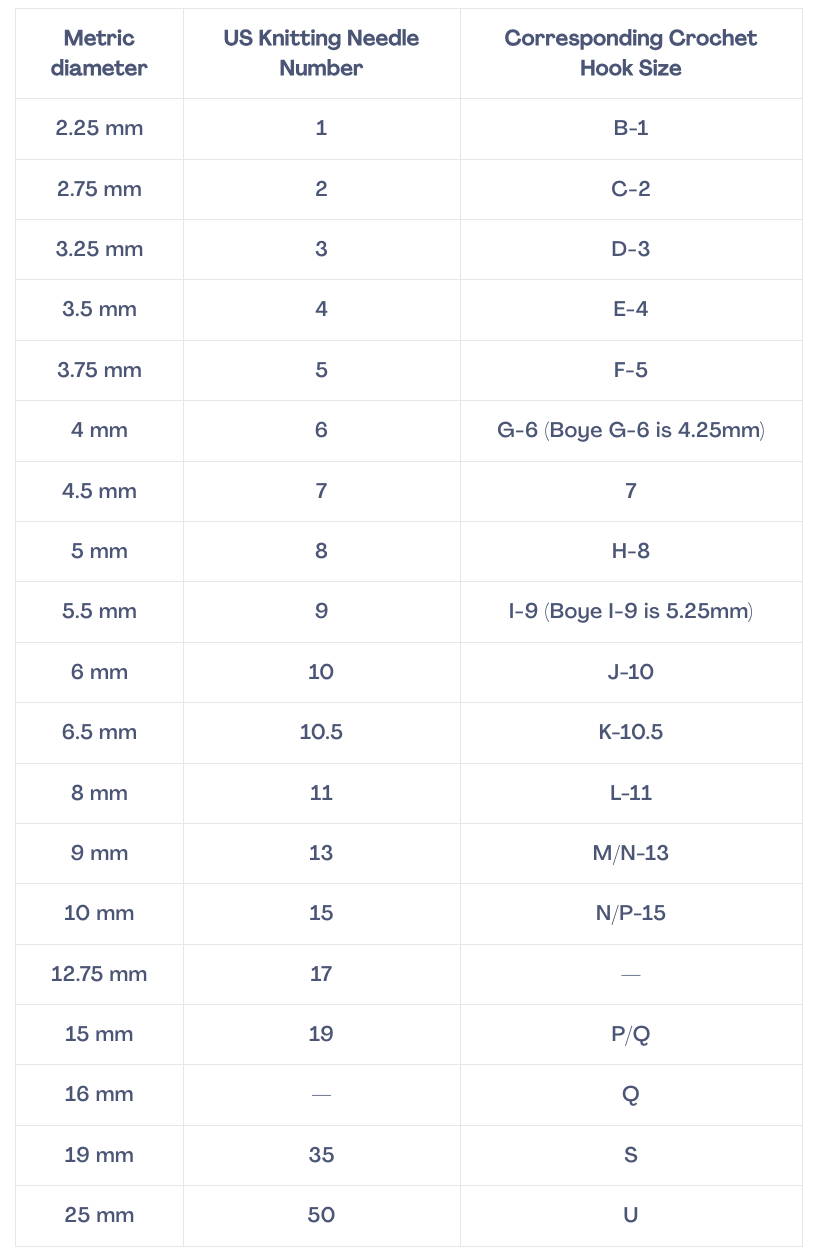 There's No Better Time To Get Lost With Inspiring Crochet
300+ 5 star-reviews ⭐⭐⭐⭐⭐
Easy to Follow Crochet Doll Patterns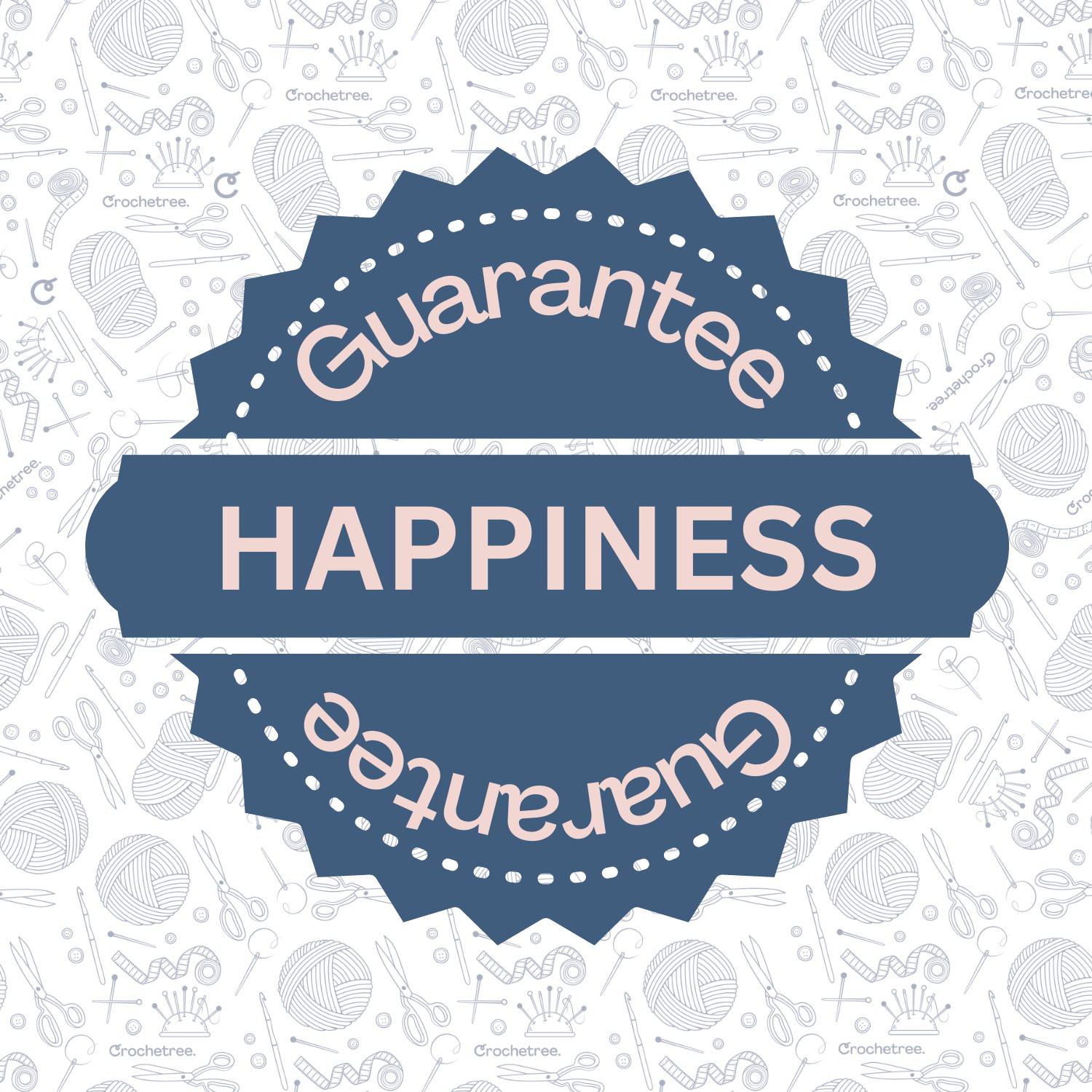 Your satisfaction matters to us!
If you're not completely thrilled with your patterns, we'll gladly refund your purchase.
Six Reasons Why You'll Love Crochetree Patterns
"I was thrilled to find this pattern. Not only did it provide an excellent tutorial, but when I needed assistance working on the pattern, the designer responded immediately with detailed information. I fully recommend purchasing patterns from Crochetree." - Carol Anne Boljevic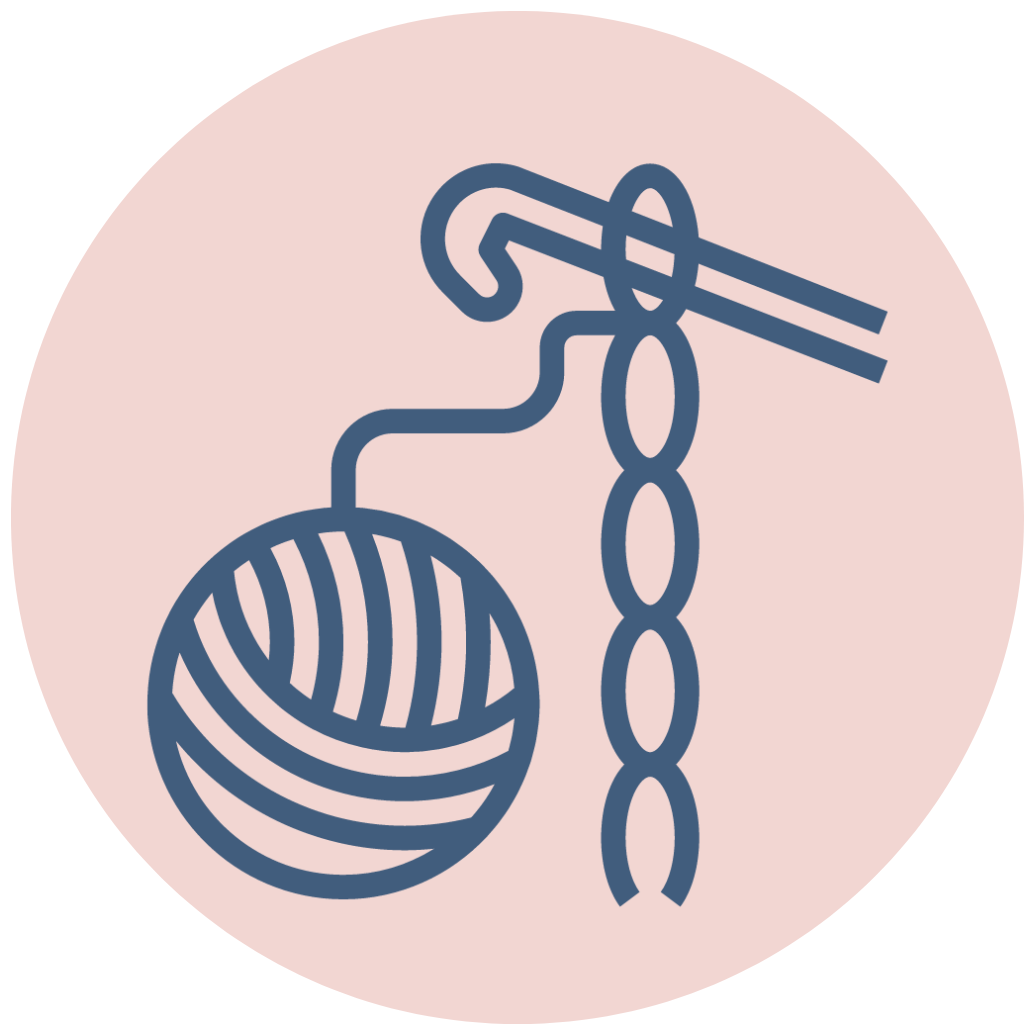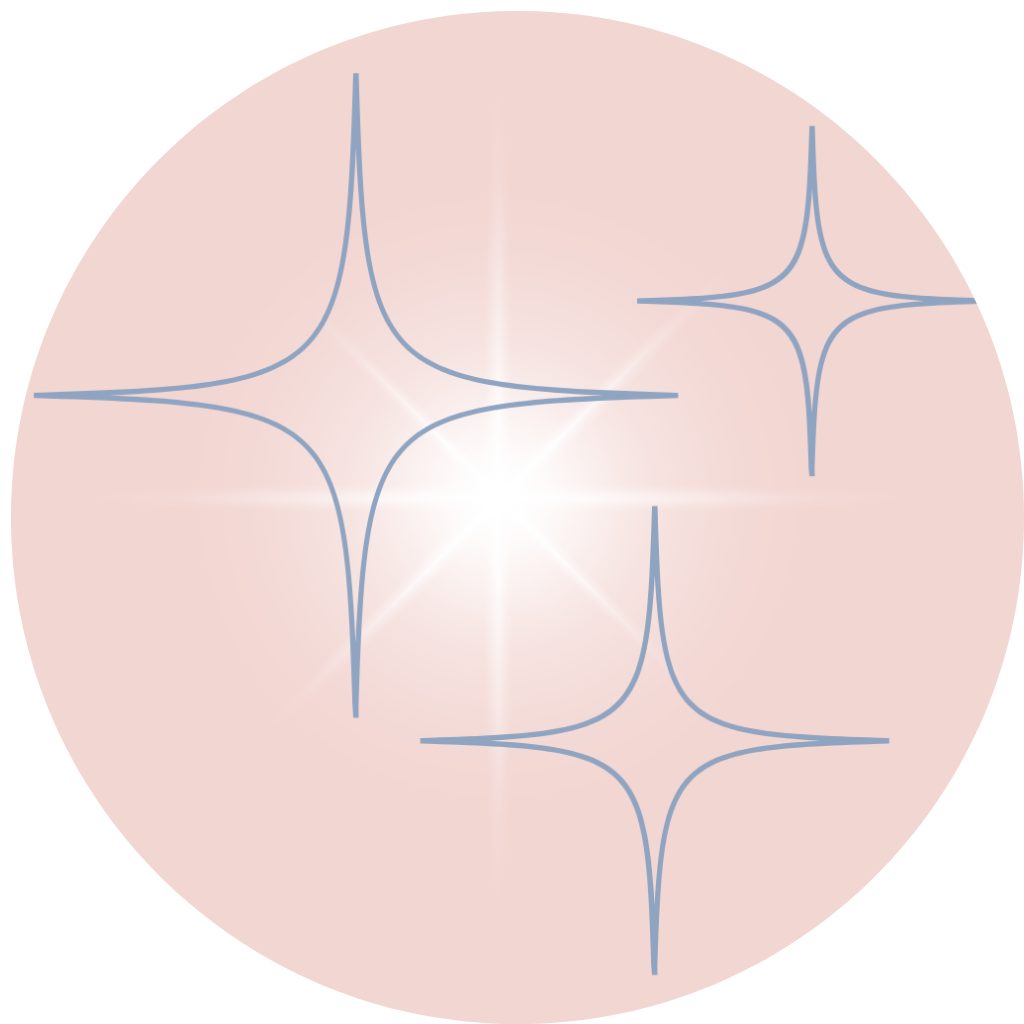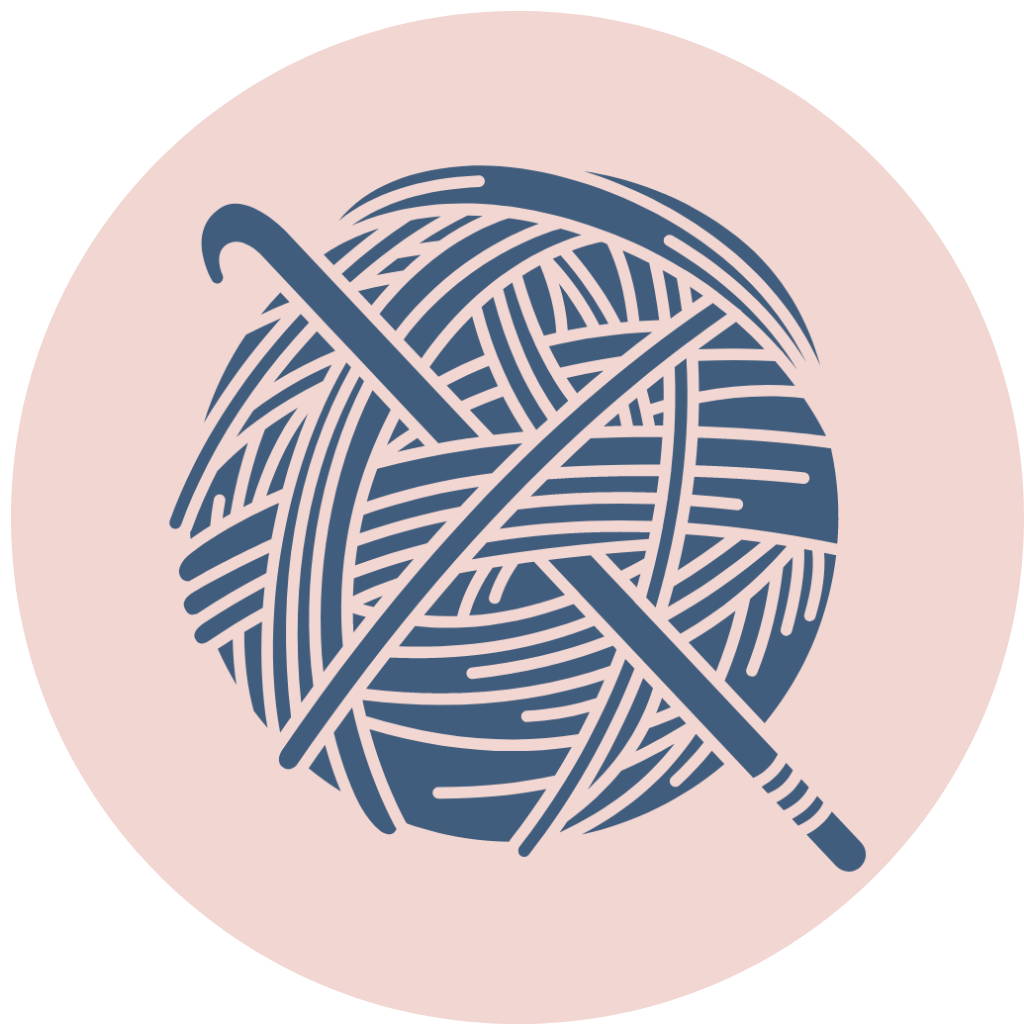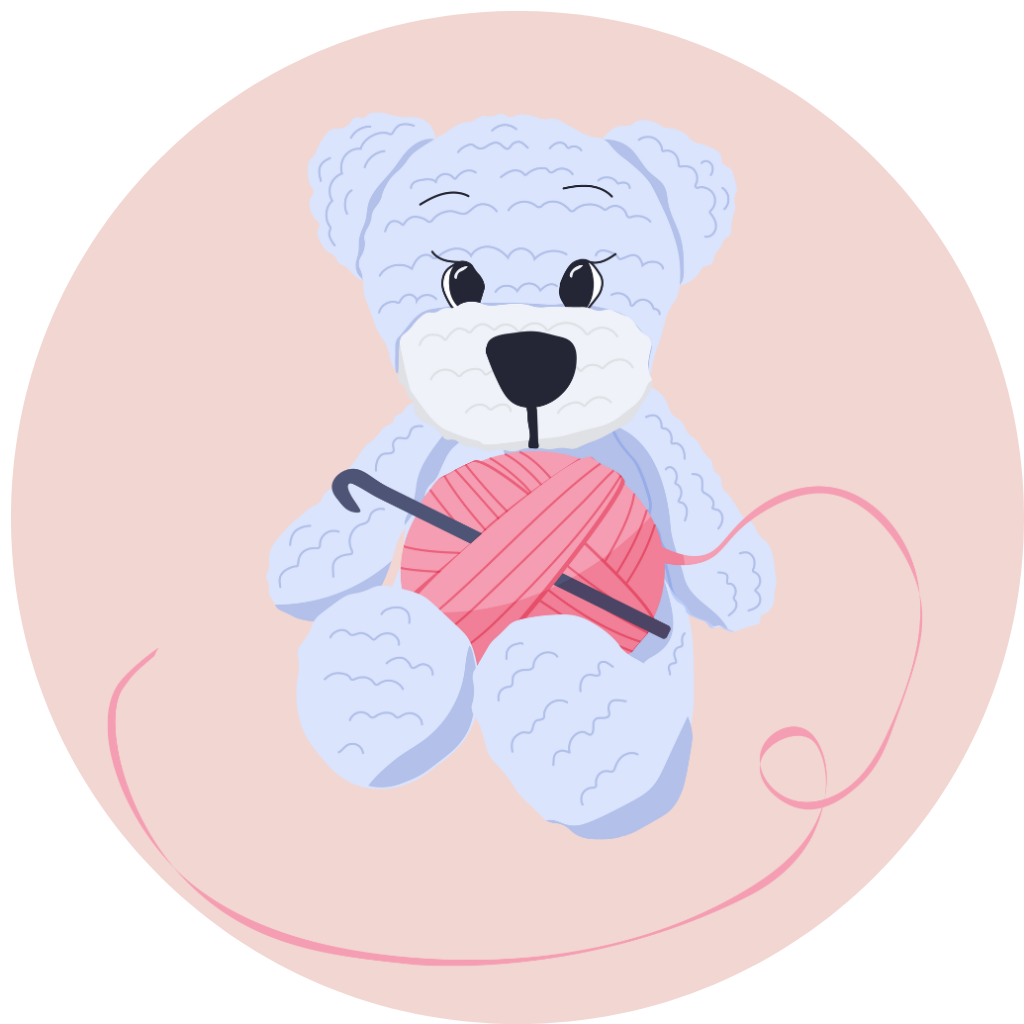 If you know how the basic crochet stitches and how to read a simple pattern, you can make one of our dolls.
Stand out with an amazing collection of distinctive and charming crochet doll patterns.
Detailed instructions and plenty of images ensure a smooth and enjoyable crafting experience, from start to finish.
Boost your confidence and artistic skills while creating heartwarming, handmade treasures.
Our team is always here to assist you, ensuring a seamless and delightful crochet journey.
With your Concierge Account, you'll never lose the files. The patterns are available 24/7 and are yours forever.



Artisan-Quality Made Easily Achievable
What our customers are saying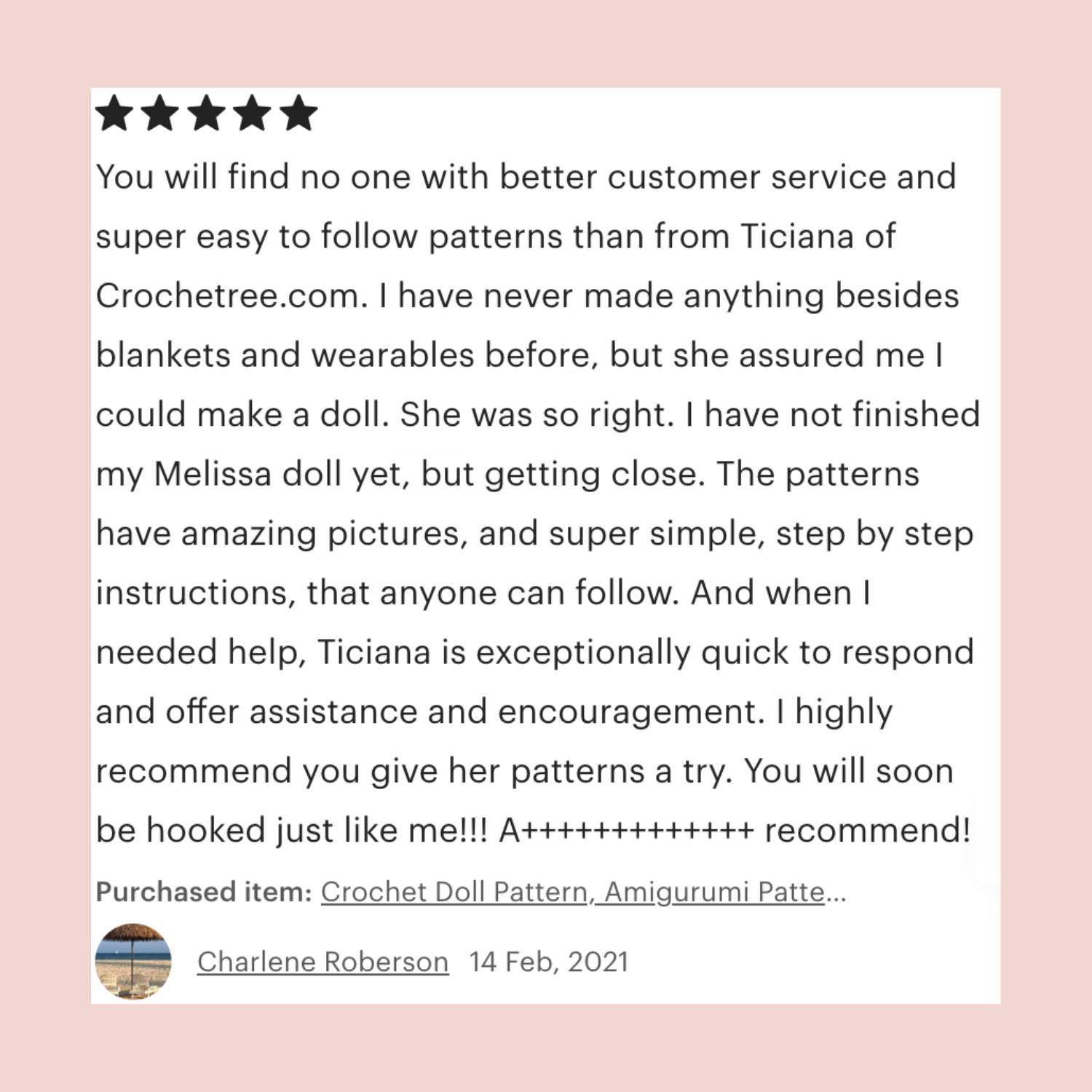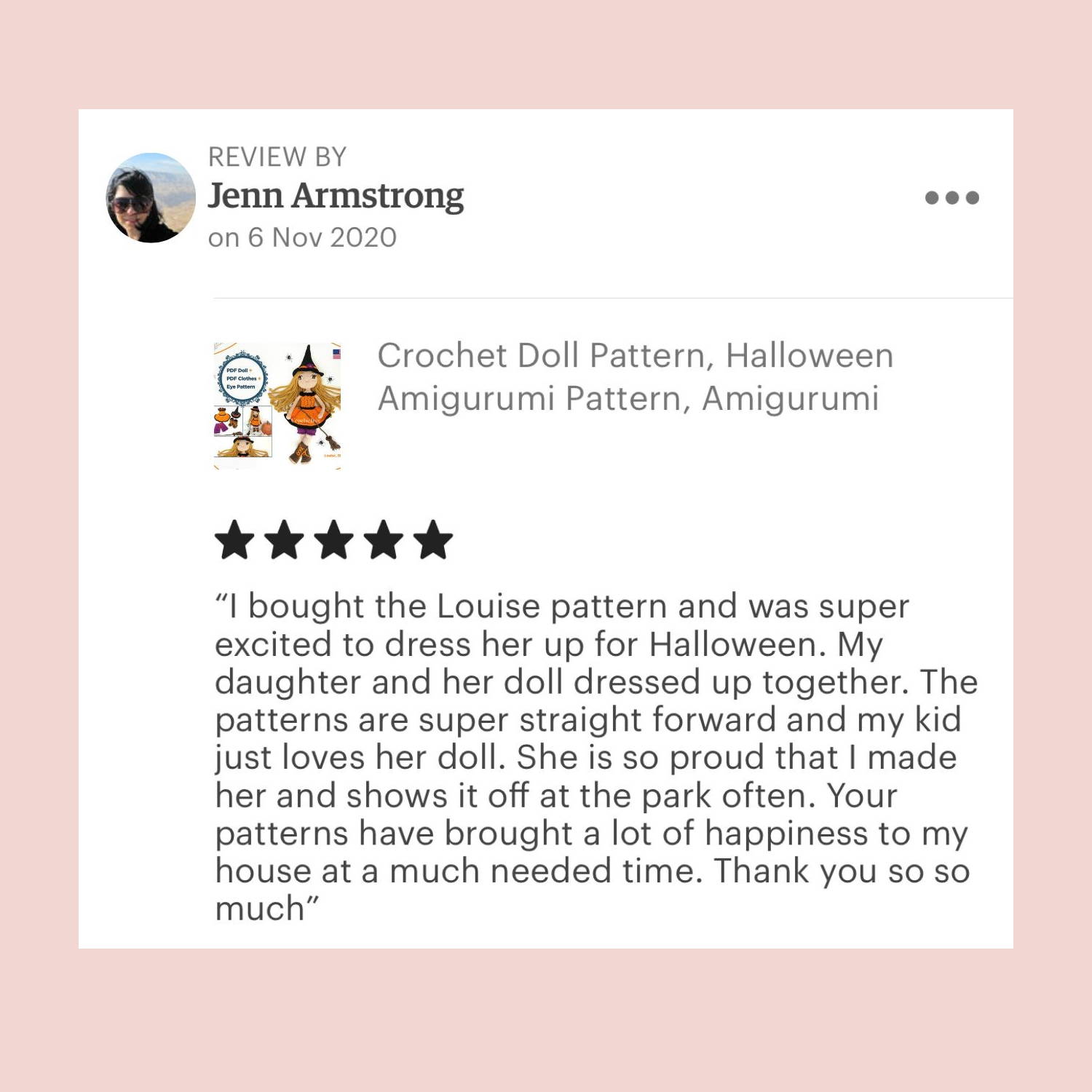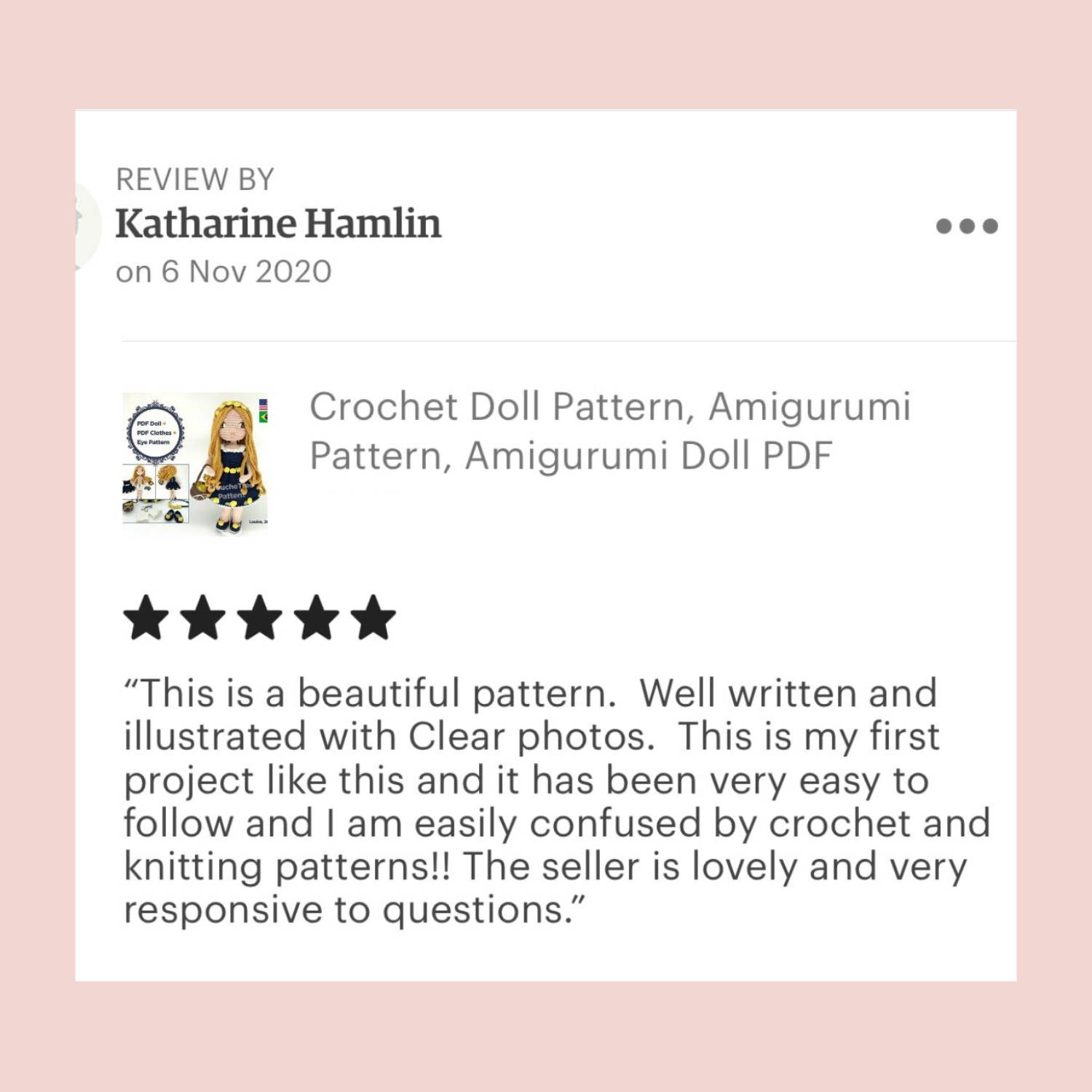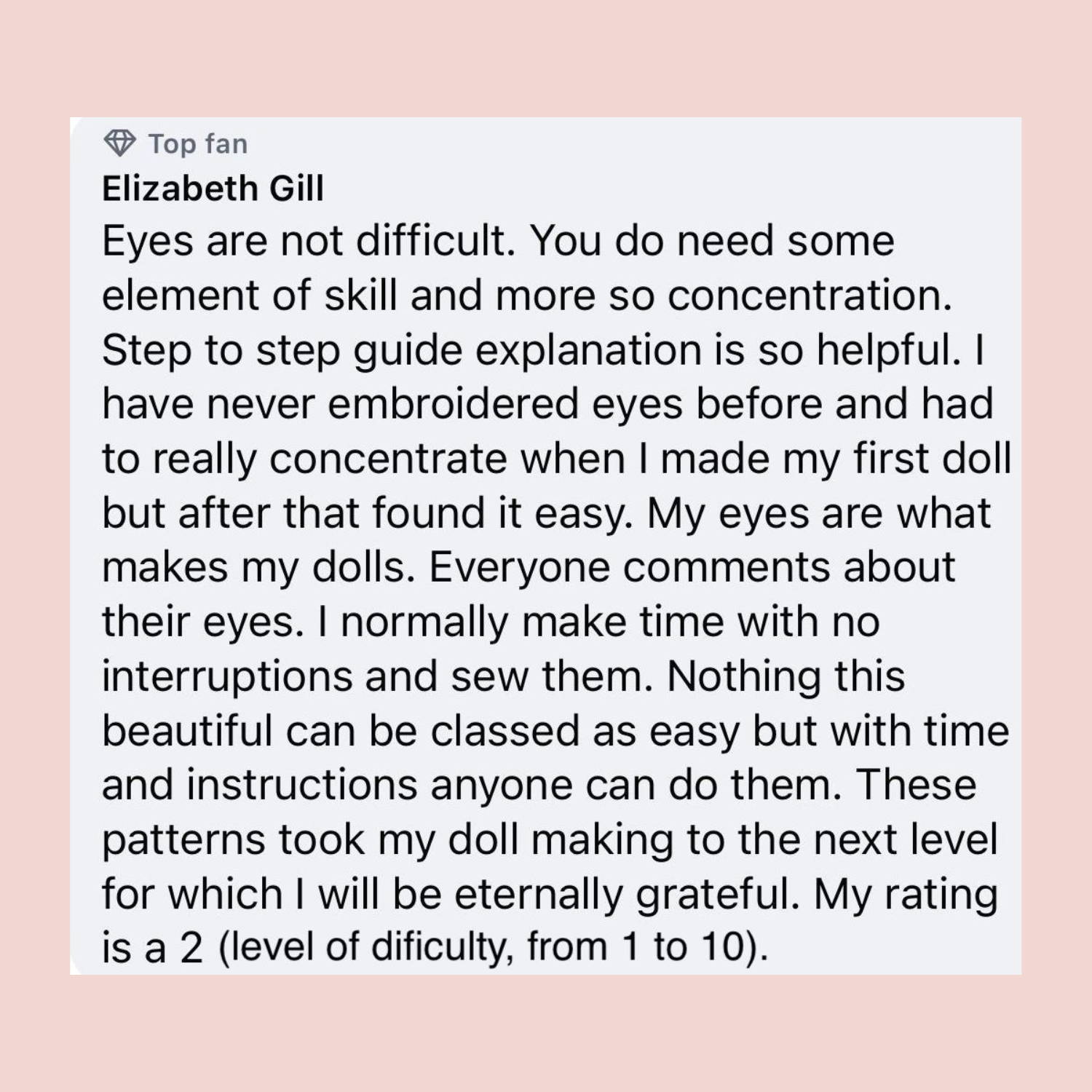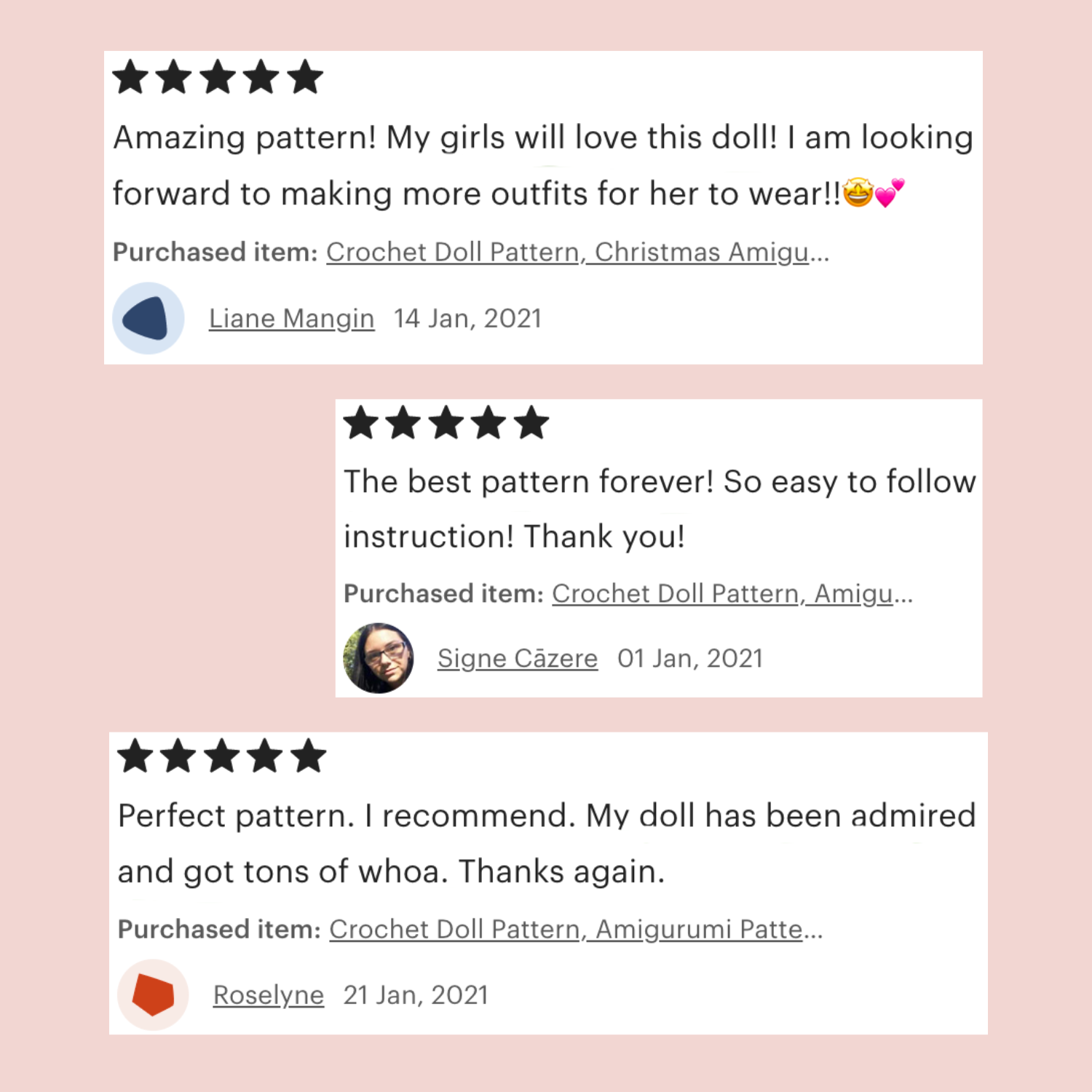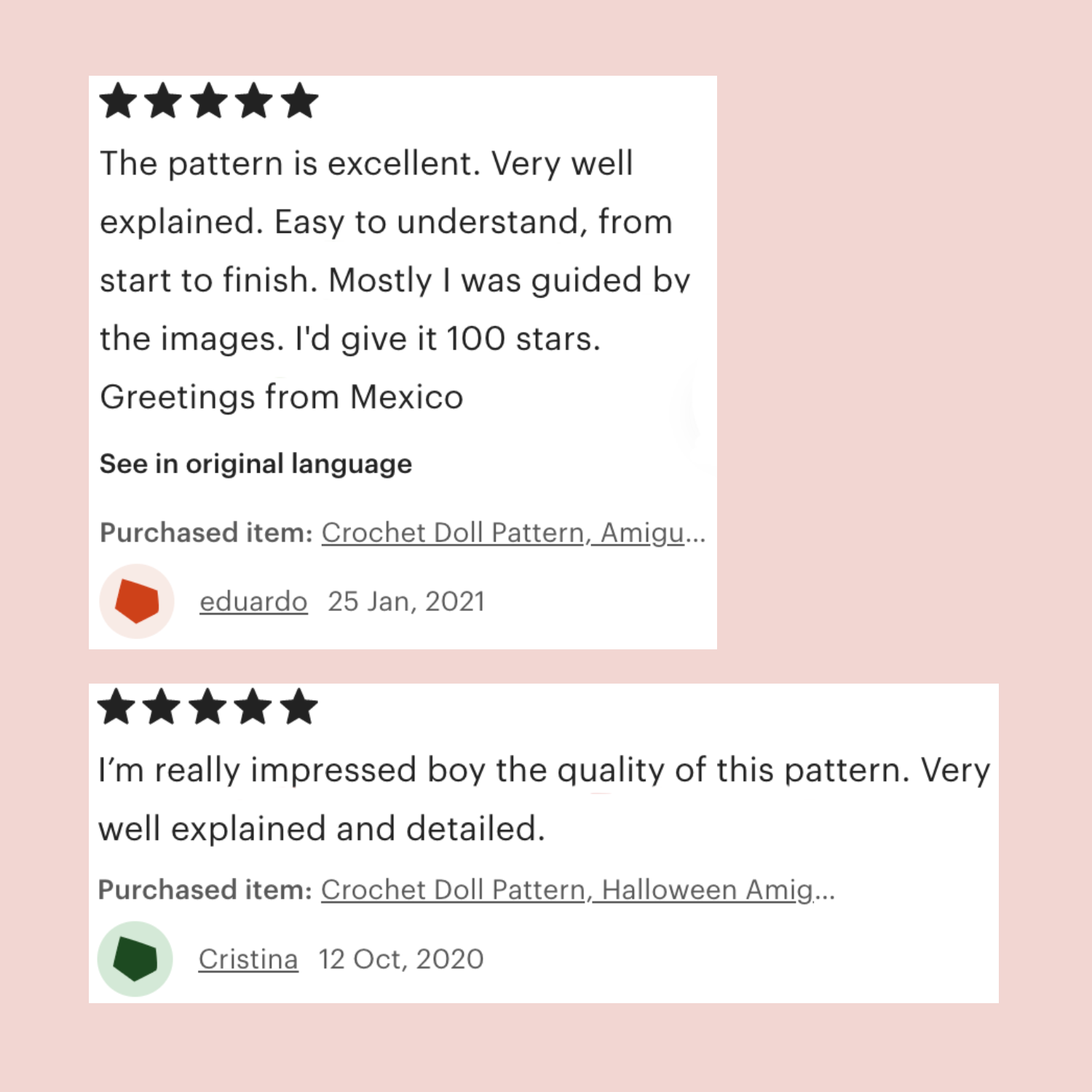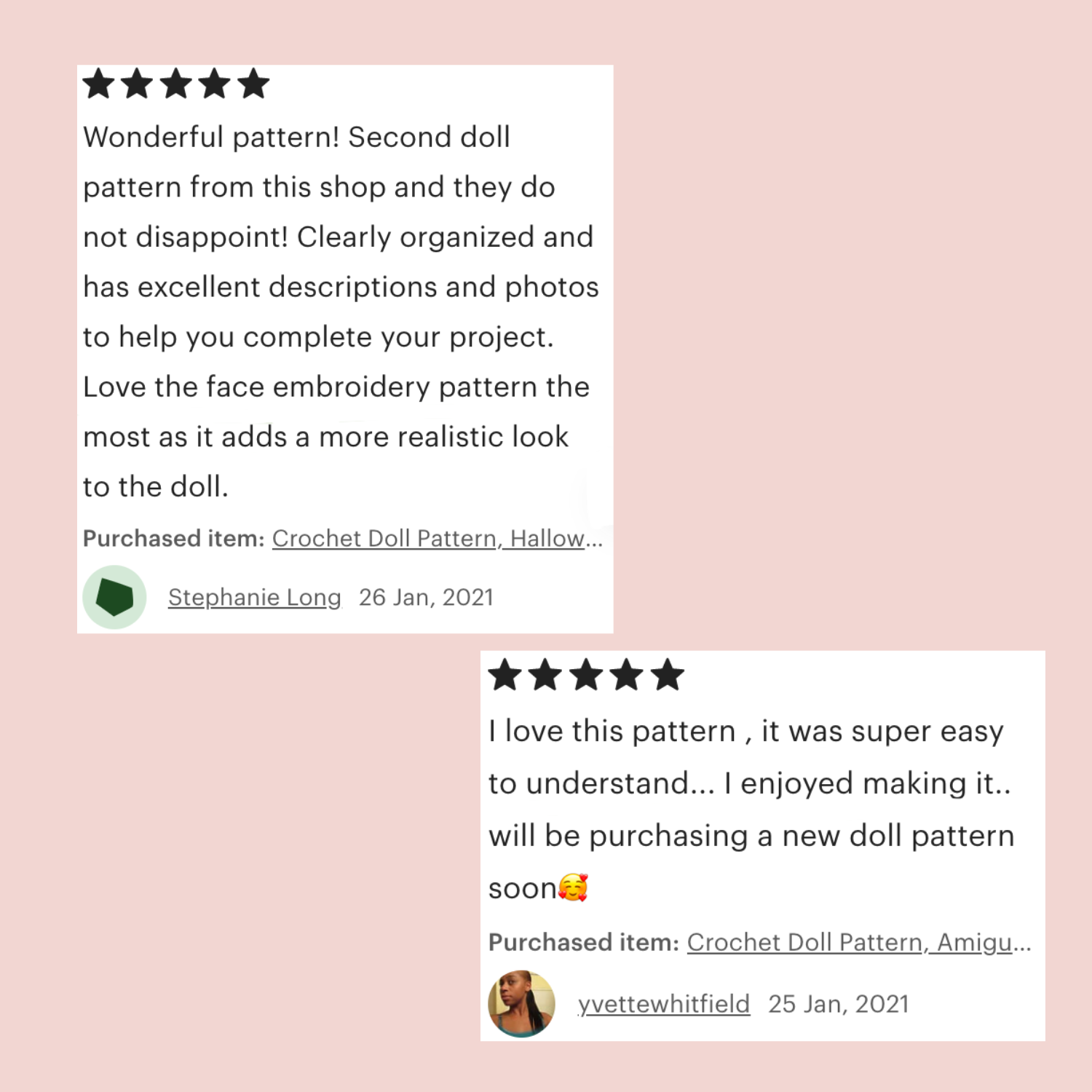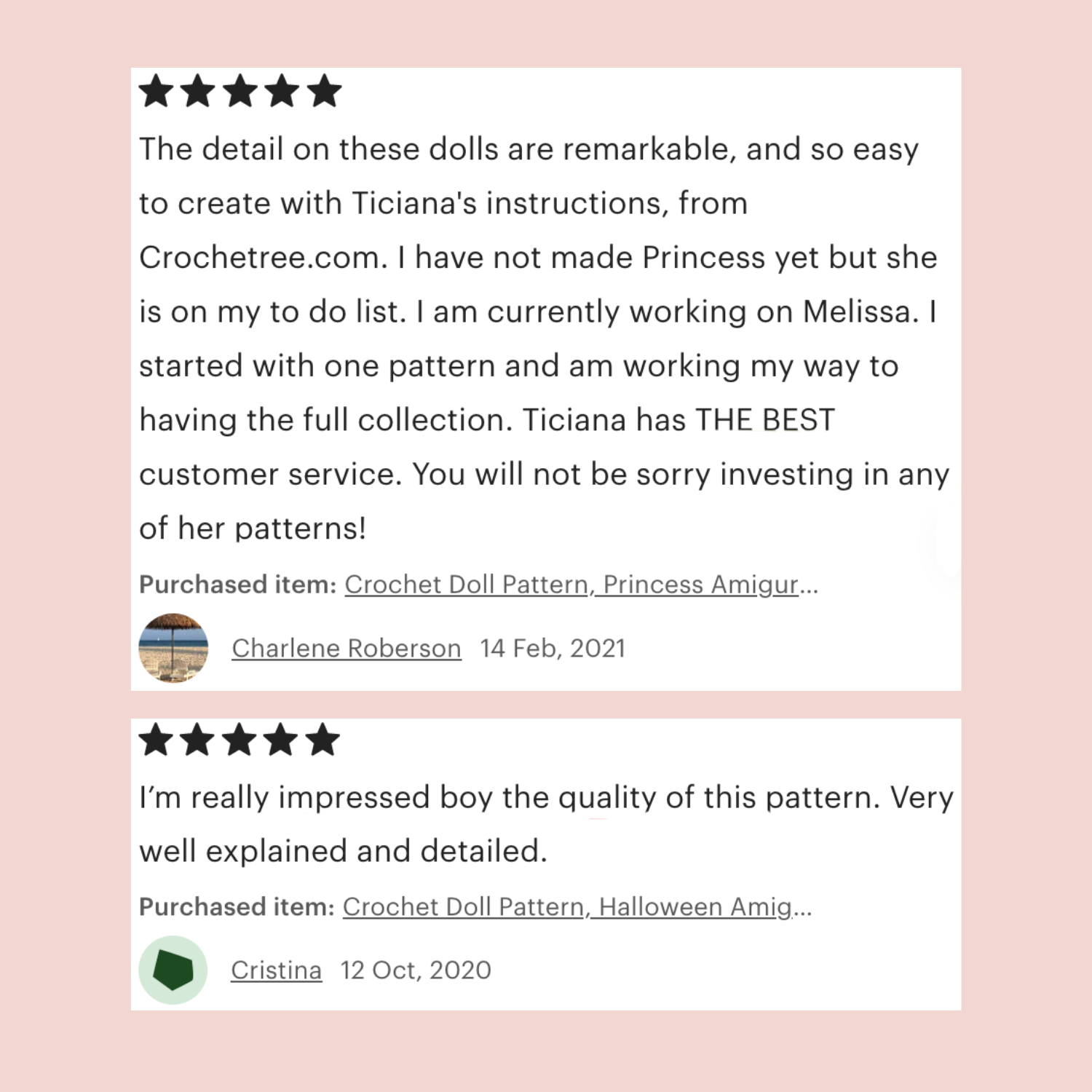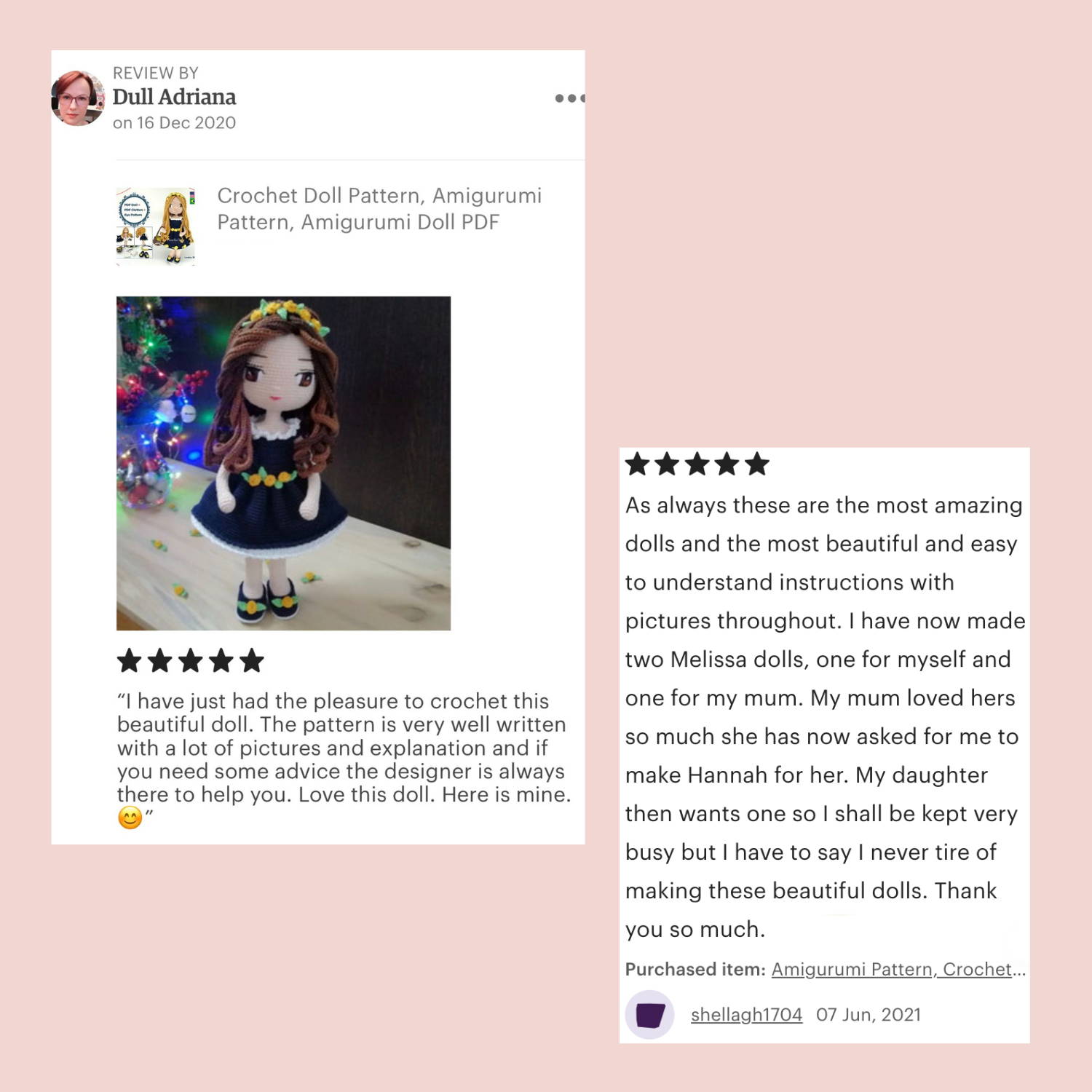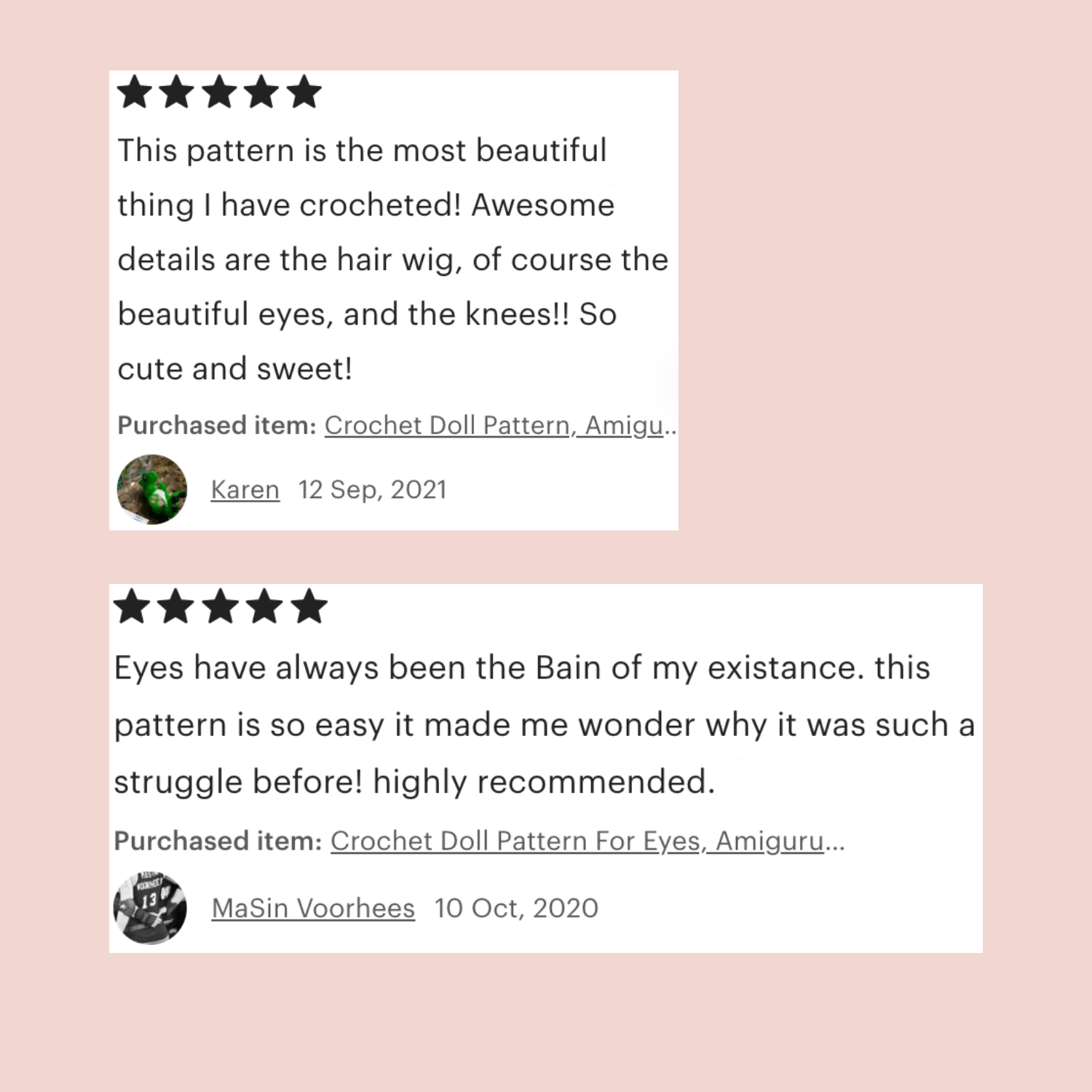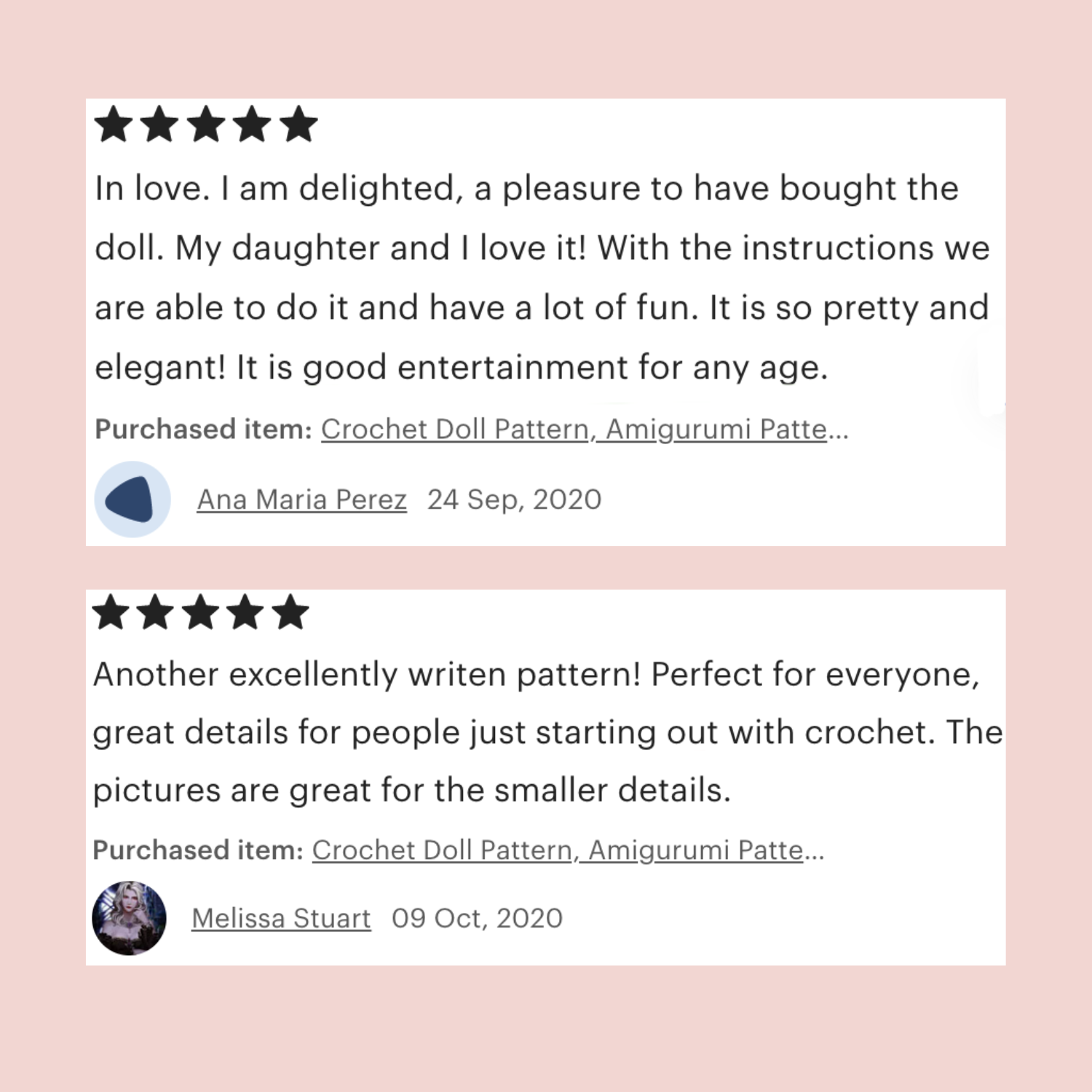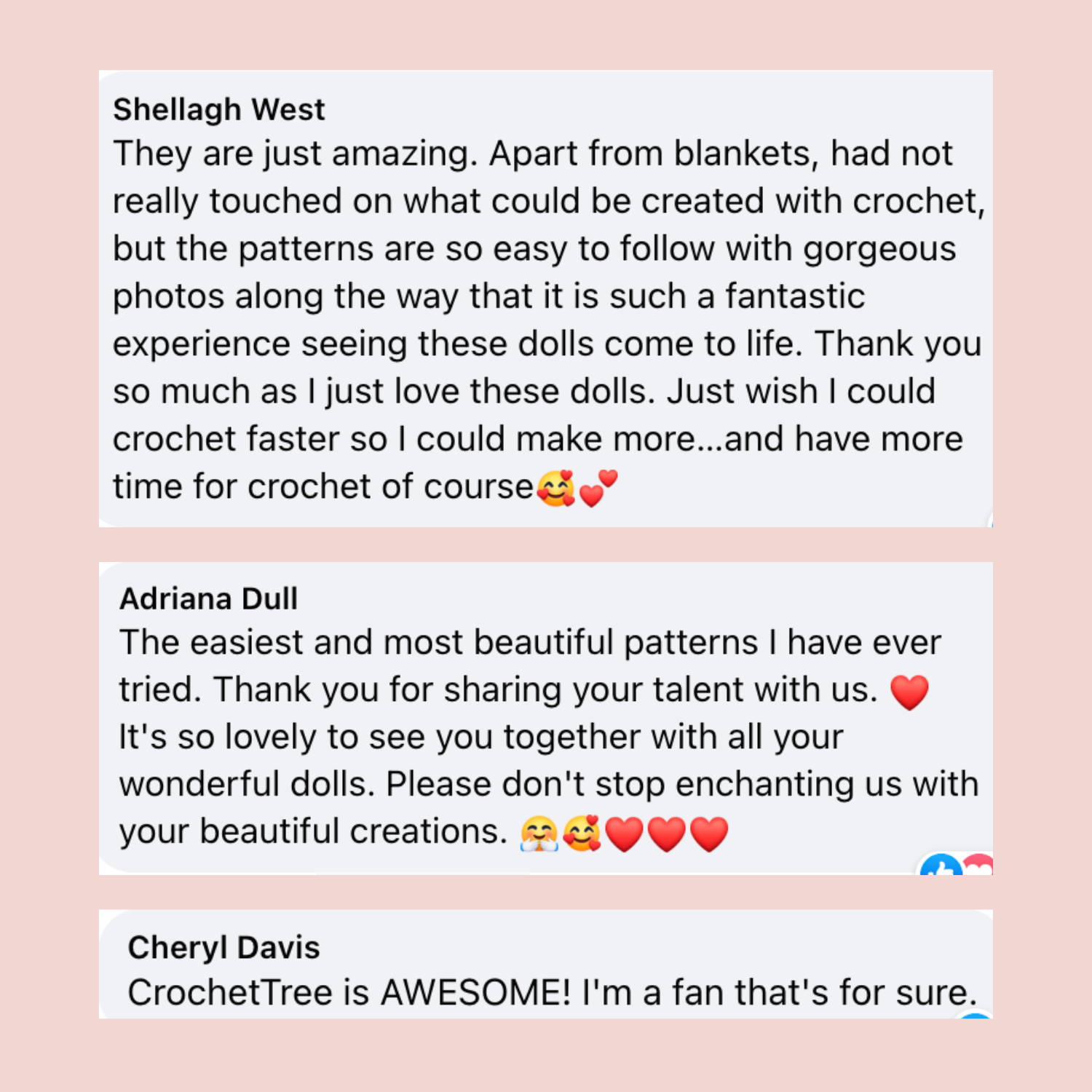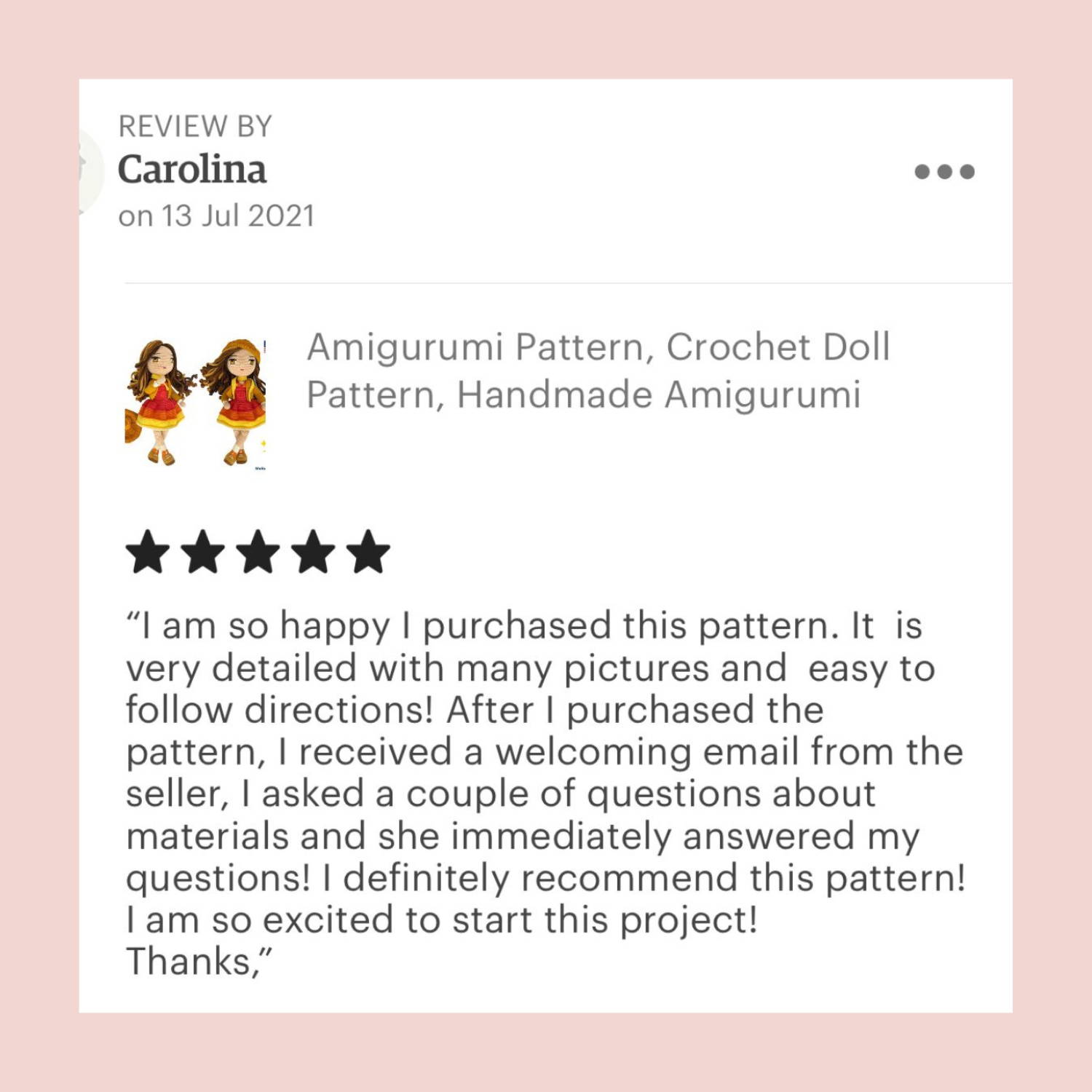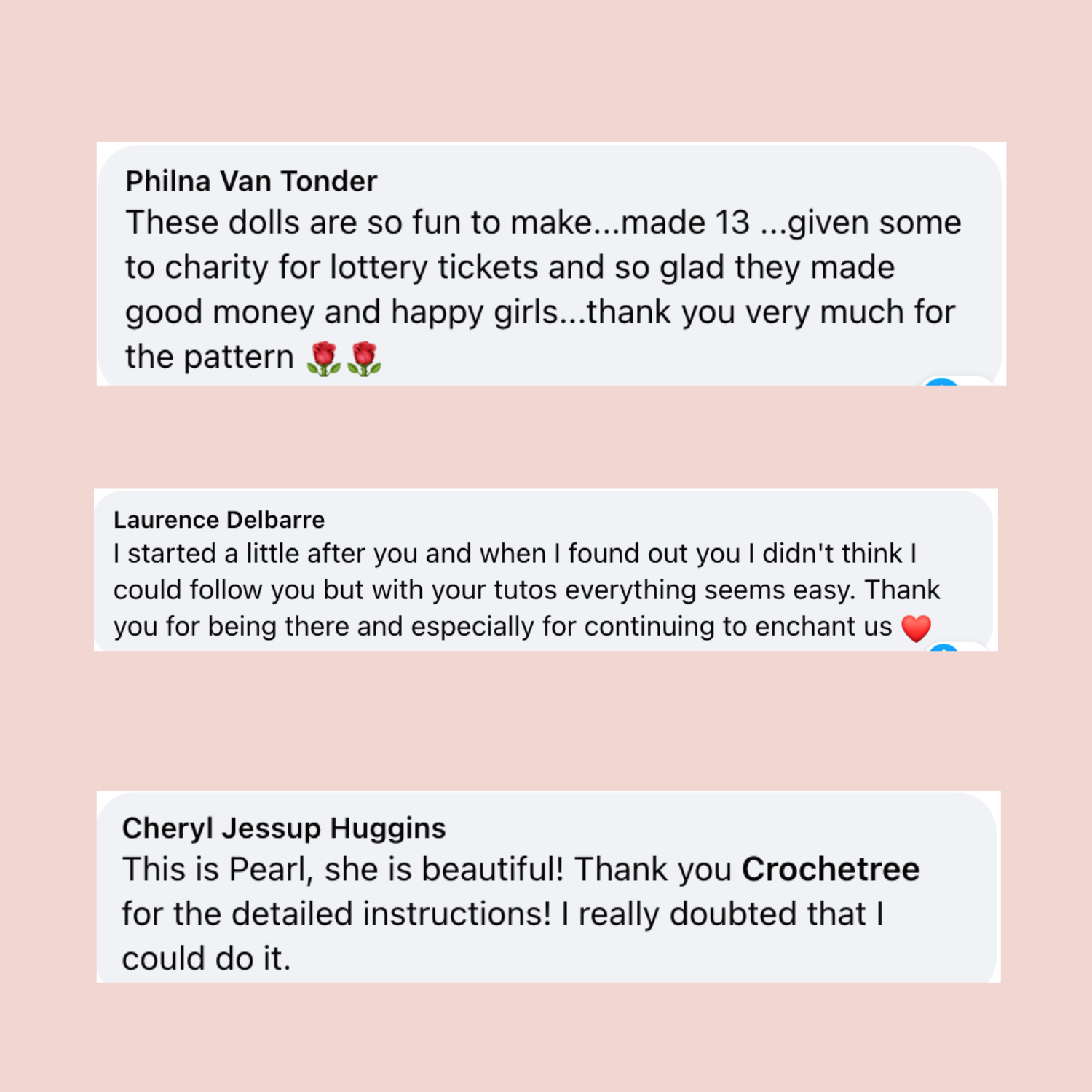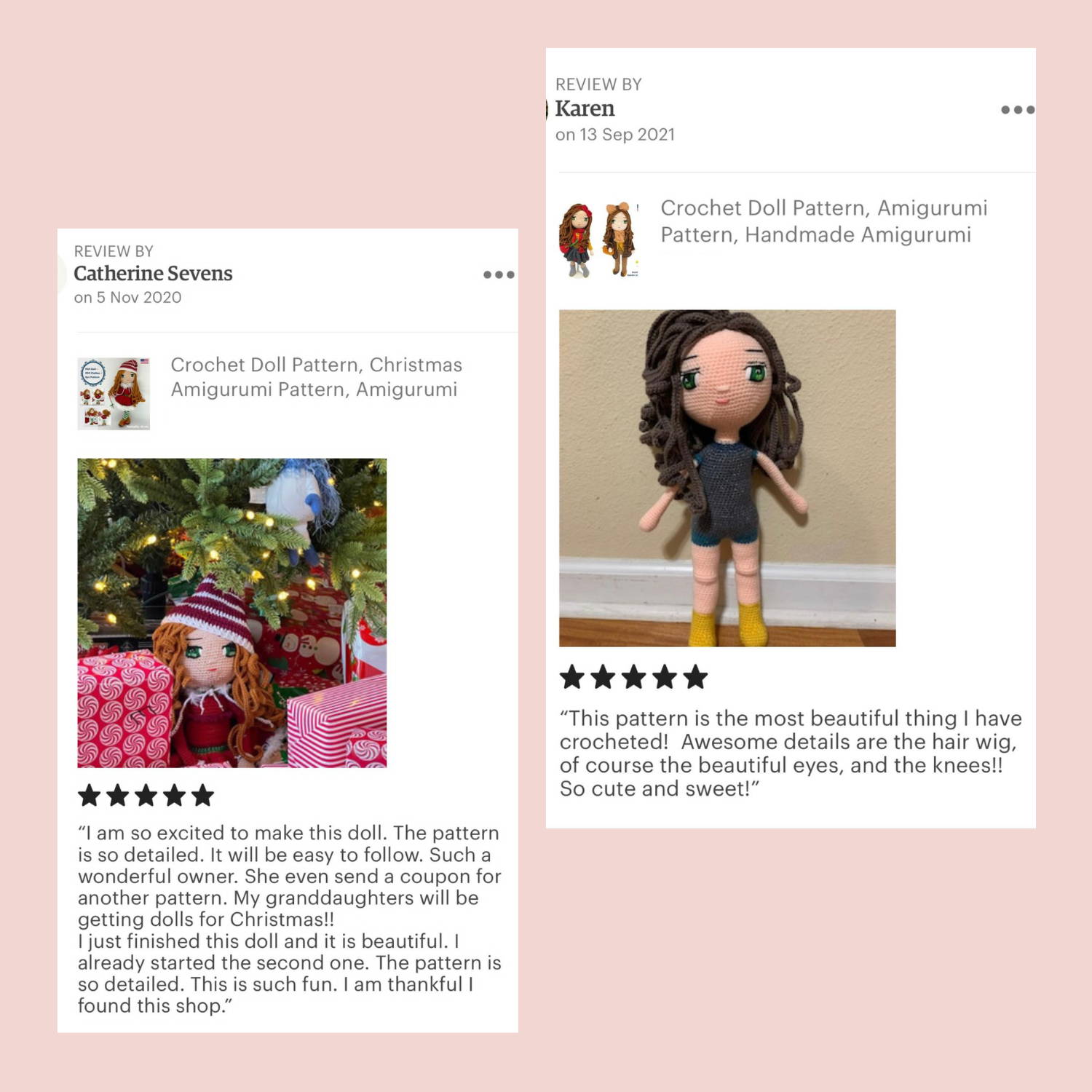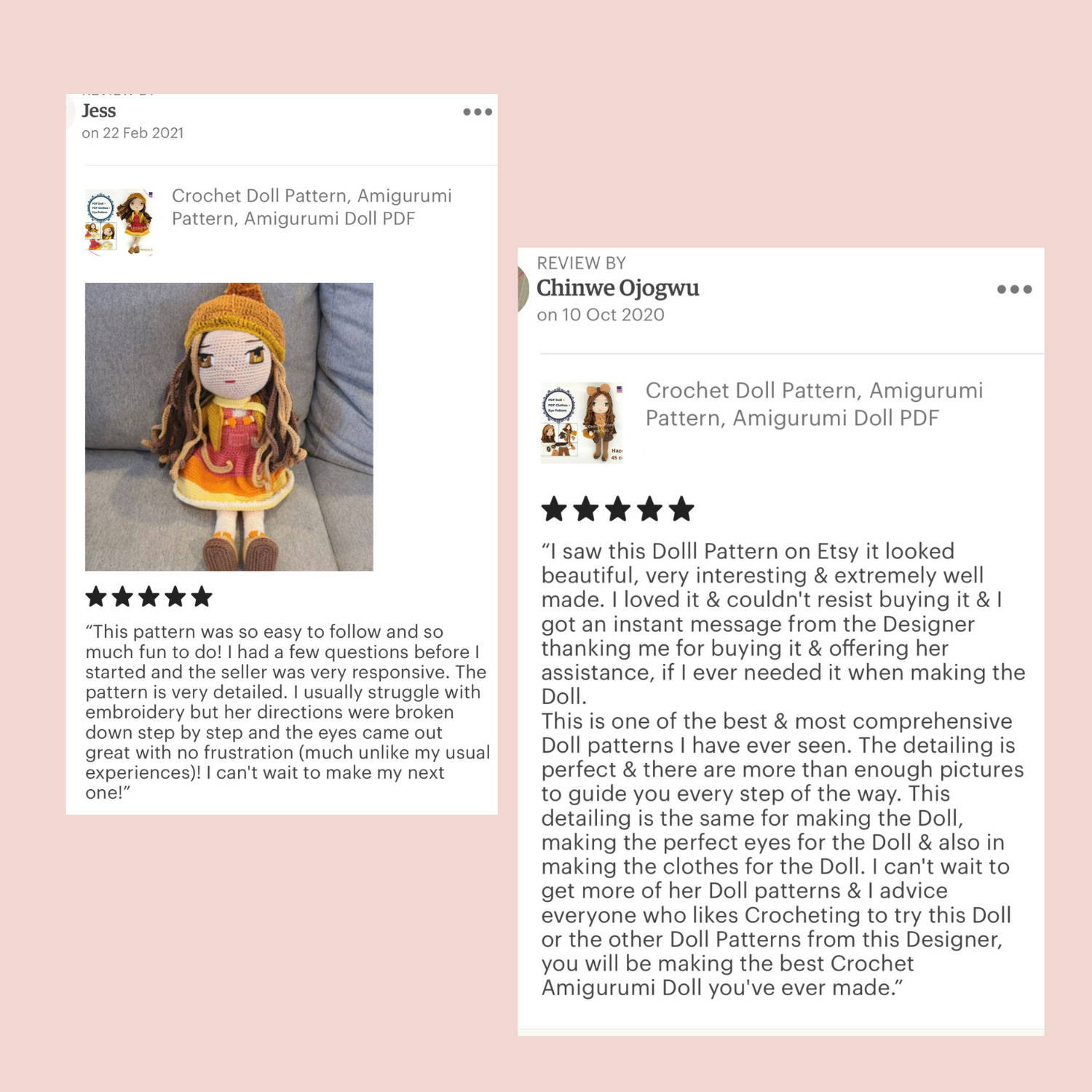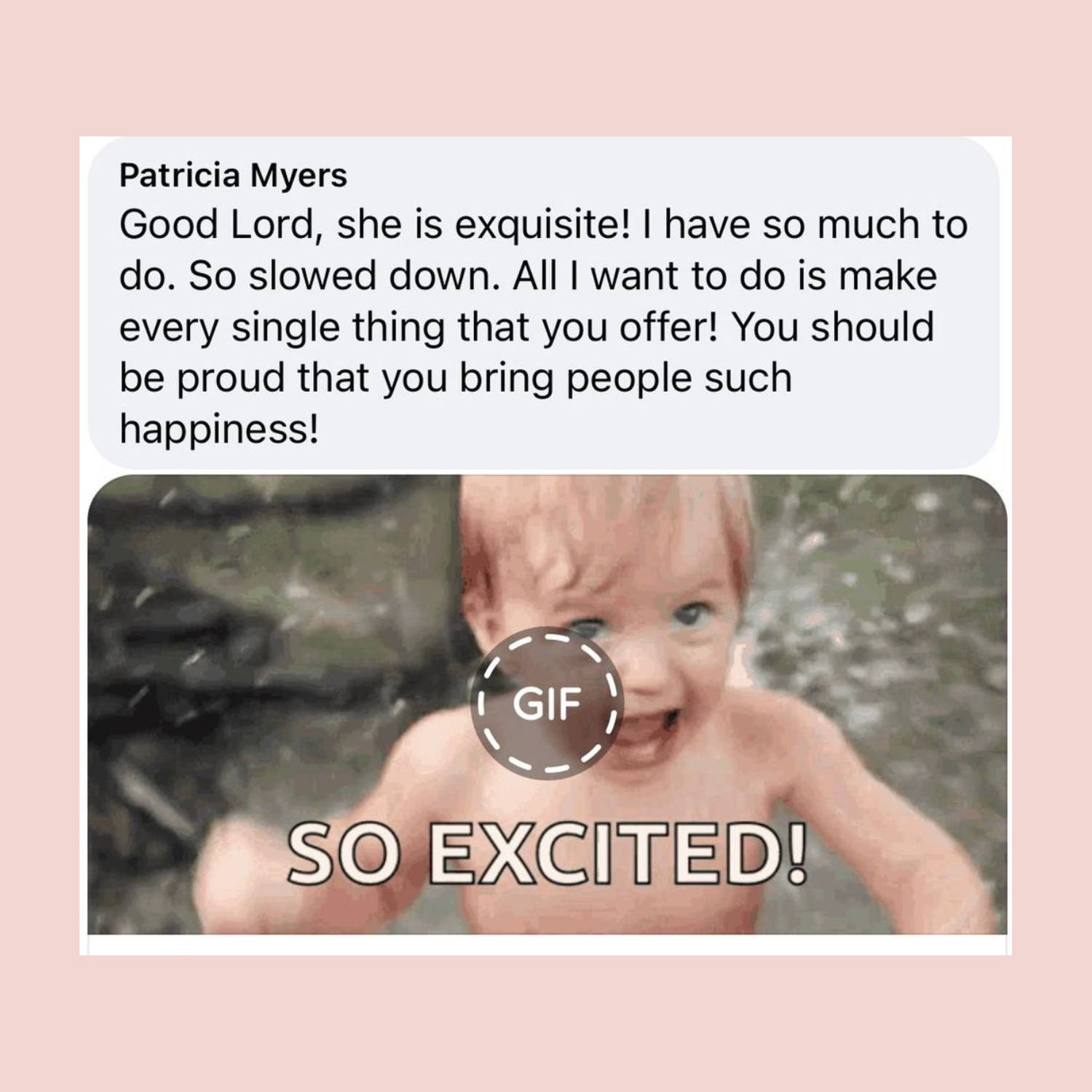 Founded by the Designer Ticiana Larocca
Craft Your Joy: Effortless Patterns for Unforgettable Crochet Dolls!
Discover the joy of crafting adorable crochet dolls with Crochetree, where we've made it our mission to simplify the process for you! So dive into the delightful world of crochet with us and experience the sheer magic of transforming yarn into charming companions!

---